Perhaps the best way to describe the current atmosphere in the White House under this administration is to say that it probably best resembles the set of a really bad adult movie. At least that's how one reference from Vanity Fair writer Graydon Carter makes it sound.
Tiny Hands
By now we've all heard about President Donald Trump's disdain for the magazine Vanity Fair. Specifically for one writer by the name of Graydon Carter:
Wow, Vanity Fair was totally shut out at the National Magazine Awards – it got NOTHING. Graydon Carter is a loser with bad food restaurants!

— Donald J. Trump (@realDonaldTrump) May 2, 2014
Has anyone looked at the really poor numbers of @VanityFair Magazine. Way down, big trouble, dead! Graydon Carter, no talent, will be out!

— Donald J. Trump (@realDonaldTrump) December 15, 2016
While Carter has written about Trump's many problems since becoming president, such as calling him 'The Ugly American,' he can be credited with something much bigger.
He started the attack on Trump's teeny, tiny hands. The same hands Trump once said had nothing to do with his manhood, contrary to what Marco Rubio suggested.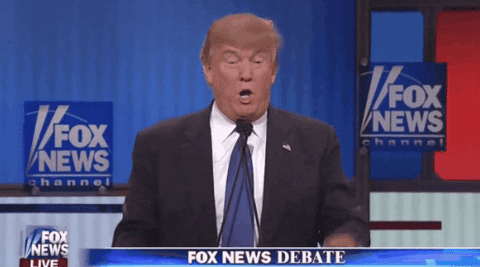 All of his supporters must be so proud to have such a sophisticated president.
In the May 1984 issue of GQ magazine, Carter wrote about meeting Trump for an interview, saying:
"Meet Donald Trump. Age 38. Eyebrows by Henry Luce. The sandy hair – longish on the sides in a Chamber of Commerce sort of way and brushed flat over the ears – by George Steinbrenner. The 6-foot-2-inch frame is trim but well-nourished. The hands small and neatly groomed."
Carter goes on to talk about the rest of his outfit, but it's the comment about his hands that Trump never forgot.
Kellyanne The White House 'Fluffer'
Every good adult film set needs a fluffer (the person whose only job is to keep the man (or men) 'ready' for close-up shots). After all, you can't make an adult movie with a sad, floppy star.
Enter Kellyanne Conway.
Carter describes Conway as the "president's temperament fluffer," constantly pulling him away from things that could upset him. For example, news outlets that call him out on his blatant lies. Trump can't stay focused when his ego is being bruised. So, in order to keep Trump's temperament in check, Kellyanne does her best to limit what he sees on the news and the internet. Keeping the big man with the tiny hands happy and 'ready' can't be an easy job.
Not with Twitter just a few clicks away, at least.
He also has a notoriously short attention span. He supposedly told an acquaintance that he was obsessed with his translator's breasts when he met with Japan's Prime Minister Shinzo Abe. The same meeting during which he took a phone call about North Korean missiles in front of Mar-A-Lago patrons.
Concerns of Trump having high security phone call at Mar-a-lago dinner party. Turns out he was still hungry, and was just ordering a pizza. pic.twitter.com/0VXFOT6mHf

— Tim Hanlon (@TimfromDa70s) February 13, 2017
His team got him on track when he spoke to members of Congress, though. During the televised event, people across the world were stunned to see him keep his composure as he spoke about the country. No temper tantrums. Just a man reading from a teleprompter.
It won the nauseating approval of many commentators and his supporters, who were so eager to show that Trump could be presidential.
Carter points out how foolish that was by saying:
"Watching TV commentators applaud him for containing himself for a little over an hour was like hearing a parent praise a difficult child for not pooping in his pants during a pre-school interview."
Whatever happens with this administration, Carter goes on to say that Trump has a lot riding on his presidency. He's an international businessman whose reputation is at stake. If he does indeed have secret ties to Russia, this could go downhill very quickly.
Meanwhile, Trump treats our White House like the set of an adult movie.
Watch this video for more on the Trump's problems with Carter.
Feature Image Source: Screenshot Via Twitter